Our Related work on video synthesis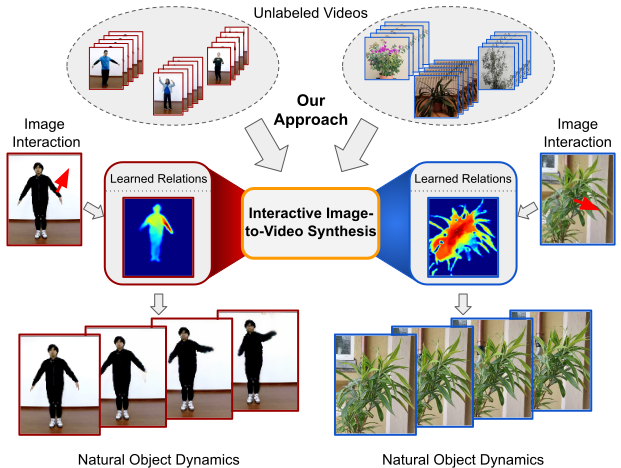 What would be the effect of locally poking a static scene? We present an approach that learns naturally-looking global articulations caused by a local manipulation at a pixel level. Training requires only videos of moving objects but no information of the underlying manipulation of the physical scene. Our generative model learns to infer natural object dynamics as a response to user interaction and learns about the interrelations between different object body regions. Given a static image of an object and a local poking of a pixel, the approach then predicts how the object would deform over time. In contrast to existing work on video prediction, we do not synthesize arbitrary realistic videos but enable local interactive control of the deformation. Our model is not restricted to particular object categories and can transfer dynamics onto novel unseen object instances. Extensive experiments on diverse objects demonstrate the effectiveness of our approach compared to common video prediction frameworks.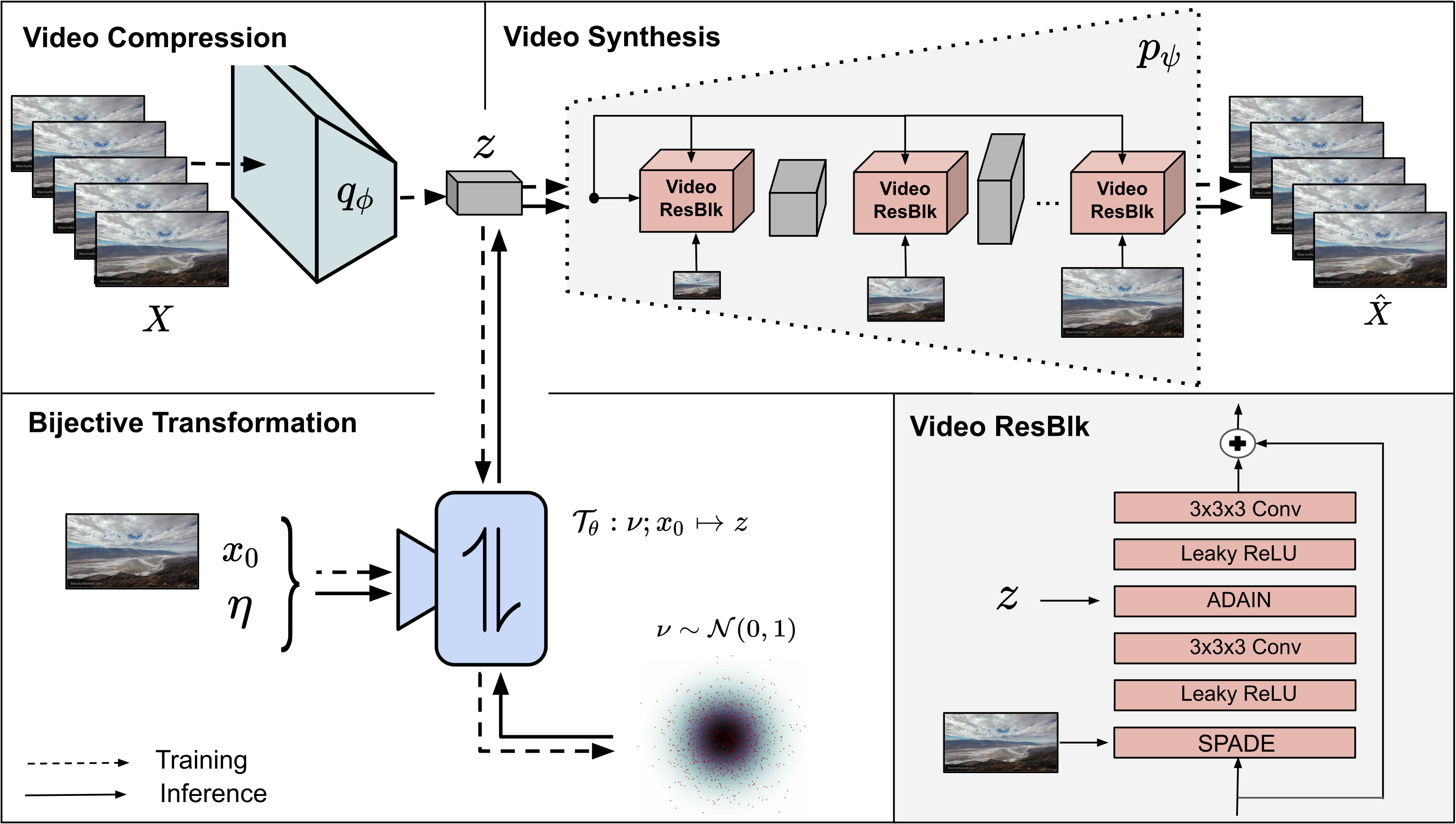 Video understanding calls for a model to learn the characteristic interplay between static scene content and its dynamics: Given an image, the model must be able to predict a future progression of the portrayed scene and, conversely, a video should be explained in terms of its static image content and all the remaining characteristics not present in the initial frame. This naturally suggests a bijective mapping between the video domain and the static content as well as residual information. In contrast to common stochastic image-to-video synthesis, such a model does not merely generate arbitrary videos progressing the initial image. Given this image, it rather provides a one-to-one mapping between the residual vectors and the video with stochastic outcomes when sampling. The approach is naturally implemented using a conditional invertible neural network (cINN) that can explain videos by independently modelling static and other video characteristics, thus laying the basis for controlled video synthesis. Experiments on diverse video datasets demonstrate the effectiveness of our approach in terms of both the quality and diversity of the synthesized results.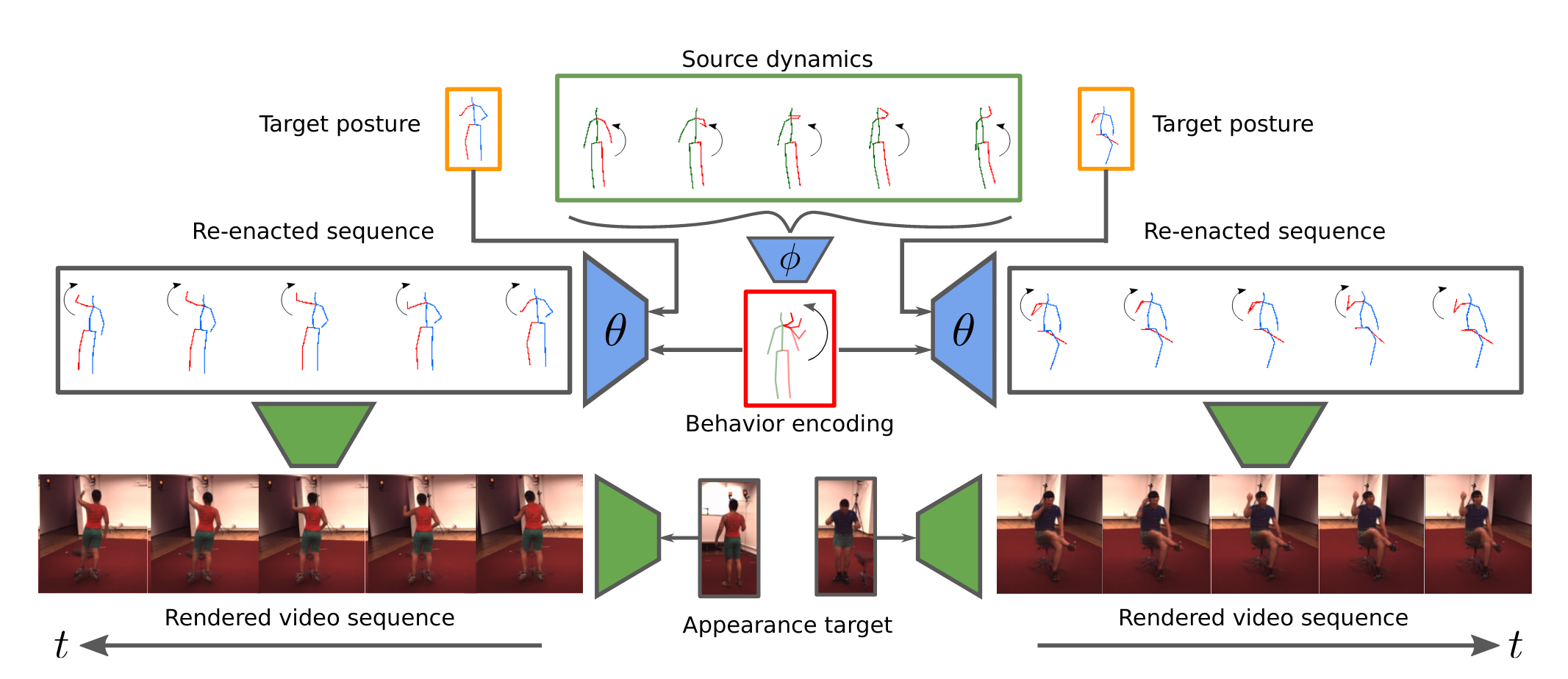 Generating and representing human behavior are of major importance for various computer vision applications. Commonly, human video synthesis represents behavior as sequences of postures while directly predicting their likely progressions or merely changing the appearance of the depicted persons, thus not being able to exercise control over their actual behavior during the synthesis process. In contrast, controlled behavior synthesis and transfer across individuals requires a deep understanding of body dynamics and calls for a representation of behavior that is independent of appearance and also of specific postures. In this work, we present a model for human behavior synthesis which learns a dedicated representation of human dynamics independent of postures. Using this representation, we are able to change the behavior of a person depicted in an arbitrary posture, or to even directly transfer behavior observed in a given video sequence. To this end, we propose a conditional variational framework which explicitly disentangles posture from behavior. We demonstrate the effectiveness of our approach on this novel task, evaluating capturing, transferring, and sampling fine-grained, diverse behavior, both quantitatively and qualitatively.